Students from the British School Raise Funds for Tiger Conservation
---


April 28, 2010

Eight young students from the British School in New Delhi, who call themselves the 'Tiger Club', have raised Rs. 13,000 to help save wild tigers. They presented their hard-earned funds to the Executive Director of the Wildlife Protection Society of India (WPSI), Belinda Wright, on Wednesday 21 April 2010.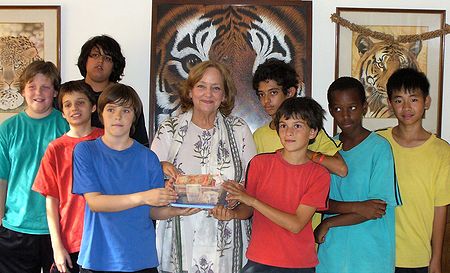 The Executive Director of WPSI, Belinda Wright, accepting funds raised for tiger conservation from students from Year 8 of the British School: (left to right) Edward Grey, Eduard Lock Feixas, Jai Singh, Sam Dalrymple, Belinda Wright, Kavan Sinha, Auustin Carre, Ronaldo Ngoga and Weihan Soh.
The funds were raised by the Tiger Club in a four-day sale at their school. Three of the students, Sam Dalrymple, Augustin Carre and Weihan Soh, made a collection of Origami figures of dragons, phoenixes and roses, while the others, Edward Grey, Eduard Lock Feixas, Kavan Sinha and Jai Singh, made chocolate brownies and other items. Edward sold hand-made postcards of tigers from photographs he had taken in Bandhavgarh Tiger Reserve. After the boys approached WPSI with their fund raising plans, WPSI encouraged the efforts of these enthusiastic young tiger conservationists with pocket calendars, bookmarks, save-the-tiger ribbons, and tiger badges.

Eminent tiger conservationist, Belinda Wright, congratulated the Tiger Club for their remarkable achievement and assured the students that their donation would be used effectively in WPSI's anti-poaching investigations and efforts to curb the illegal trade in tiger parts.