Leopard Seizure by Maharashtra Tiger Cell
---
21st October, 2003
On 11 October 2003 a team of the Tiger Cell from Gondia, Maharashtra, with the assistance of WPSI, arrested five poachers and seized two leopard skins. The Tiger Cell team, led by Assistant Police Inspector G. R. Kankale, conducted the raids in the Chichgarh area that adjoins Navergaon National Park.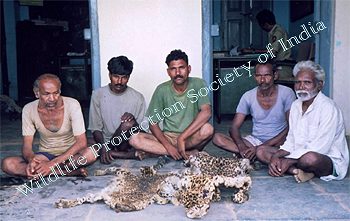 The area has a strong naxalite presence, which made the seizure extremely challenging. Naxalites in the area have been known to shelter and facilitate poachers, and the enforcement authorities have been unable to pursue cases in the past due to the threat faced from these extremist groups.
The accused were produced before the Judicial Magistrate in Sakoli, on 12 October, who remanded them to police custody.