Another gruesome death of a tiger in the Tadoba landscape
---
Please see the attached photograph of the large male tiger that was hacked to pieces yesterday in Borda forest beat, on the road to Mul, 12 km from Chandrapur in Maharashtra. This is the fifth tiger death in the Chandrapur forests this year.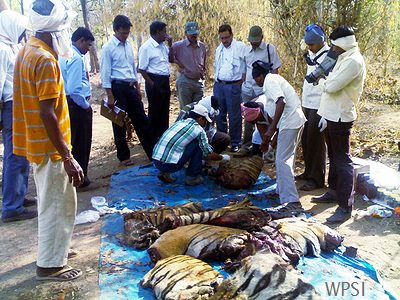 The dismembered carcass was found by a forest guard. The head and paws had been removed and there were drag marks around the area. Burn marks on the hind limb of the body indicate that the animal was electrocuted, perhaps at another site and then dumped from a vehicle beside the road. A one lakh cash reward has been offered by the Forest Department and WPSI is assisting in the investigation.

Please distribute the photograph far and wide so that the powers that be are motivated to do something about this senseless slaughter of tigers. The loss of every wild tiger is a major set back for this critically endangered species. At the very least, the Special Tiger Protection Force (that was announced in India's Parliament in February 2008 with a special grant of 50 crores) should be put into place immediately. Forest Departments needs to collaborate closely with skilled Police officers and experienced non-government individuals so that there is intelligence-led enforcement. Patrolling, field monitoring, detection, gathering of intelligence, investigation and prosecution are all areas that desperately need improvement.

Nitin Desai of Wildlife Protection Society of India and a wildlife crime expert says, "It is possible to detect the traps even without using metal detectors. Poachers normally block all tracks leading to the spot they fix the snares except those on which they fix the snares.