Home :: News :: 18032009

Leopard Skins Seized in Dehradun
---
18 March 2009

The Special Task Force (STF) of Uttarakhand Police Department assisted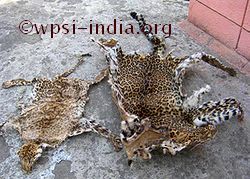 by Wildlife Protection Society of India (WPSI), arrested one person and two leopard skins were recovered from him in the Vasant Vihar area of Dehradun today.

The accused hailing from Chamoli district of Uttarakhand together with a co-accused currently absconding, poisoned the mule killed by the leopards. They later skinned the two leopards and stored the skins in order to make an opportunistic profit from the sale.

WPSI's wildlife crime database shows that in the year 2009 alone, 39 leopard skins have been seized across the country by various enforcement agencies.








NGO STATEMENTS & CAMPAIGNS

Round 2: Tiger Temple Takedown
Previous


Vacancy Announcement





TIGER NEWS


Tiger poacher snared after 15-yr hunt, 20th Oct., 2016

Barring China, other member countries of CITES unanimous on curbing tiger farming for trade, 6th Oct., 2016
TIGER DEATHS IN 2018
Mortality 31
Poaching &
Seizures 13
___________________
Total 44


TIGER DEATHS IN 2017
Mortality 78
Poaching & 38
Seizures
___________________
Total 116


TIGER POACHING 1994-2017


A jumbo nightmare 21st Oct., 2016

How 1,200 trains running through India's protected areas pose grave danger to its sensitive wildlife 12th Oct., 2016

LEOPARD DEATHS IN 2018
Mortality 123
Poaching & 64
Seizures
___________________
Total 187
LEOPARD DEATHS IN 2017
Mortality 272
Poaching & 159
Seizures
___________________
Total 431


LEOPARD POACHING 1994-2017



PUBLICATIONS



Check downloadable reports

TIGER RESERVES


Bandhavgarh