15 Leopard Skins Seized
---
12th June, 2004
Acting on information provided by WPSI, the authorities seized 15 fresh leopard skins from village Barota in Sonipat District of Haryana on Friday 11 June 2004.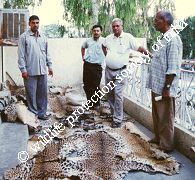 The raiding party that included WPSI officials found the skins hidden in a tin trunk, which was buried in a five-feet-deep pit, near the residence of the key accused Dulichand. Nine large steel traps were also recovered from a nearby pit. The accused was arrested on the spot along with Lakhmi Chand, who is also a suspected wildlife trader. The Wildlife Regional Office of Northern Region, the local Forest Department and Haryana Police jointly carried out the raid.
One brand new cellular phone, a diary, and Rs. 3,500/- in cash were recovered from the men arrested. The case was handed over the State Forest Department and the accused were produced in the court on Saturday morning.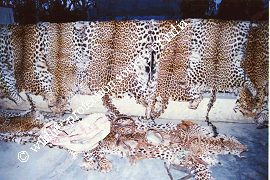 While interrogation, Dulichand confessed that the animals were killed in Uttranchal and the skins were to be taken to Sansar Chand in Delhi. He also admitted that this was his second consignment to Sansar Chand in the past six months.
This seizure has once again demonstrated the scale of wildlife trade in India and more importantly the involvement of Sansar Chand, who was only last month granted bail after being sentenced to 5 years of rigorous imprisonment.
WPSI has been carrying out detailed investigation into the nexus between poachers in Katni District of Madhya Pradesh their counterparts in and around Panipat District of Haryana and traders in Delhi.