Support Greenpeace campaign; say 'No' to coal mining in tiger habitat
---


1 December 2011

The proposed mining of coal near Tadoba-Andhari Tiger Reserve and other forests in central India poses a huge threat to the survival of tigers and other wildlife. Greenpeace India is carrying on a sustained and innovative campaign against the granting of clearances to mine coal from these areas.

On Wednesday, 30 November 2011, Greenpeace activists dressed as tigers blocked the gates of the building housing the Coal Ministry in the capital New Delhi and demanded that the forests of central India be saved from the menace of coal mining. The activists met with the Coal Minister Mr Sriprakash Jaiswal, and handed over a petition signed by over 112,000 people opposing the coal ministries insistence for more forestland.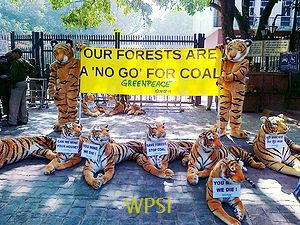 Greenpeace 'tigers' demonstrate outside the Coal Ministry at Shastri Bhavan, in New Delhi, 30 November 2011

Around 54% of India's current power generating capacity is coal-based. Apart from the fact that the sector is India's largest generator of carbon emissions, most coal mining sites have now been declared critically polluted areas by the Ministry of Environment and Forests. Coal is a finite resource, and investment in coal-based energy is thought to be a shortsighted approach towards securing the country's energy requirements.

The Coal Ministry would have us believe that the environmental clearance process is a roadblock to meeting India's energy requirements. The truth is exactly the opposite. Environmental clearances for coal mines and thermal power plants have been granted at unprecedented rates over the last four years (far in excess of the projected requirements for the 11th Five Year Plan), and in the case of thermal power plants, far more than the rate of actual installation.

More details on this can be found on the Greenpeace India website and the Down to Earth website

So if you care about the fate of our forests and tigers, lend your voice to the Greenpeace campaign and say 'No' to coal mining in the forests of central India.