Bones of Contention - V C D
---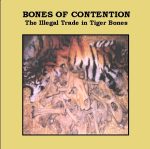 In the early 1990s a sudden escalation in tiger poaching and the seizure of large quantities of tiger skins and bones confirmed conservationists' worst fears. Far Eastern traditional medicine manufactures, having decimated their own wild tiger populations, were now targeting India as their source of supply. Already critically endangered, the tiger is now threatened with extinction.
BONES OF CONTENTION tells the story of the horrific trade in tiger parts, from the small time poacher in India to the market places of China, in graphic detail.
The video was produced by the Wildlife Protection Society of India with a grant from the Rufford Foundation
The WILDLIFE PROTECTION SOCIETY OF INDIA (WPSI) is at the forefront of efforts to safeguard India's wildlife. Its primary aim is to provide support and information to combat the escalating trade in wildlife parts, and to strengthen the enforcement of environmental laws.
Running Time: 12 minutes, colour