Two of the world's mightiest rivers - the Ganga and the Brahmaputra - flow into the Bay of Bengal through a vast system of distributaries that form the largest delta in the world. This delta is covered by a dense mangrove forest system called the Sundarbans. A part of this forest has been declared a Tiger Reserve; however, the villages that surround the Reserve are among the most under-privileged in India. There is no electricity, no roads, only basic education and no permanent health care facilities.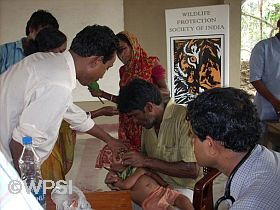 The Wildlife Protection Society of India (WPSI) started its community outreach programme in the Sundarbans in 2002 with the aim of encouraging villagers living around the Tiger Reserve to view wildlife and their environment as an asset rather than a threat. We currently have a Tiger Conservation Centre and a Kindergarten school, and we undertake a number of health, awareness and livelihood related initiatives.
Our Tiger Conservation Centre on the island of Bali holds wildlife film shows and village and nature club meetings for the 25,000 inhabitants of the island. In collaboration with the West Bengal Forest Department, we also organise annual events, such as Forestry Week and Wildlife Week, which are attended by up to 4,000 people.
WPSI also runs a small kindergarten school and a Sundarbans Nature Club. Thousands of wildlife posters have been distributed, along with conservation awareness kits to a few schools that include solar powered colour television sets and a collection of wildlife films.
Under the 'The Bali Community Health Project' (a joint initiative of VJSMF, ACT, Help Tourism, Bali Nature, WCS, and WPSI), health camps are held twice a month at the Centre. After Cyclone Aila struck the Sundarbans in May 2009, we set up a permanent medical camp at our centre with two resident doctors, to serve the thousands of people that were affected.
WPSI has initiated a Self-Help Micro Credit System for women. Over 50 Self-Help groups have been established, with 10 to15 members each. Members contribute a nominal amount of Rs. 30 per month to be able to receive bank loans, to help fund medical expenses, etc. We have also initiated training in Kantha, a traditional form of embroidery. The women embroider tigers onto khadi silk, which are made into colourful cushions, which have found a ready market in the cities. This additional employment provides their families with an income and also helps reduce pressure on the forest resources.
The useful Sundari tree, after which the Sundarbans is thought to have been named, is fast disappearing in the forests due to increased salinity. Using seedlings prepared in our nursery, we have helped local communities to plant thousands of Sundari trees around their villages. With support from the Sundarbans Development Board, WPSI has executed annual plantation drives to plant mangrove saplings on chor land to prevent erosion of the river embankments along with shade trees in the villages. Over 180,000 saplings were planted in 2008 alone. In the past two years, WPSI has also assisted in the construction of more than a hundred rainwater harvesting ponds, which are the only source of fresh water for the people of the Sundarbans.
We also undertake anti-poaching activities in the Sundarbans. Our team uses a confidential information reward scheme to work with the Forest Department and the state Police to curb poaching in and around the Sundarbans. A voluntary Tiger Rescue Team reacts swiftly to any reports of tigers entering nearby villages and armed with nets, sticks and portable loudspeakers, assists in keeping crowds away from the tiger until the Forest Department arrives on the scene. This has helped save many tigers from a violent and unnecessary death.