Two Tiger Skins Seized in Andhra Pradesh
---
March, 2003
In yet another seizure, two tiger skins were seized and two men arrested with the assistance of WPSI personnel in Andhra Pradesh on the night of 15th February. This takes the tally of reported tiger deaths in the first 46 days of the year to a shocking 14.
The seizure was carried out by the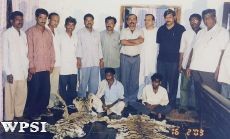 Surveillance Cell of the Forest Department from Hyderabad, and took place near Kauthala in Kagaznagar tahsil of Adilabad district near the state border with Maharashtra. The information for the case was unearthed by a WPSI field investigator and a WPSI staff member along with Assistant Conservator Q.M. Khan carried out the undercover operation.
Poaching in the Karjeli and Bijjur ranges, close to Chaprala Wildlife Sanctuary, along the state border has been on the rise. Due to the presence of naxallite insurgents,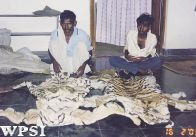 forest personnel have recently faced murderous assaults during encounters with poachers and have had to cutback patrolling. Both the men arrested on Saturday have faced charges of poaching and naxallite activity in the past.
It is interesting to note that one of the tiger skins had been peeled off like a sock. An unknown buyer, who failed to collect the skin, had apparently put in a specific order so that the skin could be mounted as a trophy. The accused alleged that four such orders had already been delivered.