Seven Leopard Skins Seized in MP
---
29th June, 2004
Raids carried out by the Katni Forest Department on 23 June 2004 in Katni and Shahdol, Madhya Pradesh led to the seizure of 7 leopard skins.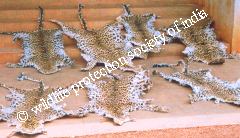 The seizure is important not only because it involves large-scale trade in a Schedule I specie, but also because one of 4 men arrested admitted that he supplied directly to Shabbir Hasan Kureshi. Kureshi is the main accused in the January 2000 Khaga case, in which 70 leopard skins, 18,000 leopard claws, 4 tiger skins, 132 tiger claws and 221 otter skins were seized.
New evidence of poaching activities in Madhya Pradesh, Maharashtra and Gujarat on a much larger scale than previously believed and evidence of the gang's contact with Delhi and Uttar Pradesh has come up. The arrested trader also confessed that he has supplied "at least ten tigers in the past year".
In the hours that followed the seizure, WPSI was able to coordinate with enforcement officers at various locations in Madhya Pradesh and Uttar Pradesh to help conduct raids and arrest the big traders. Investigations are underway and a warrant against Shabbir Hasan Kureshi has been issued.