Tiger Bones and Claws Seized in Uttarakhand
---

17 January 2012

New Delhi: The Special Operations Group (Kumaon Forest Range) assisted by the Wildlife Protection Society of India (WPSI), seized 9 kg of tiger bones, 18 tiger claws, three canines, and tiger's whiskers from the Kotabagh area near Ramnagar in Uttarakhand on 11th January.

One person was arrested and two kg of leopard bone was also later seized from the accused during the joint operation led by Mr. Paramjit Singh, Chief Conservator of Forests (Kumaon Range).

Earlier, on 9 January, seven steel jaw traps used for trapping leopards and other wild animals were also seized from a village in Dauli Range near Haldwani.

WPSI's wildlife crime database has recorded the poaching and seizure of the body parts of 43 tigers and 365 leopards in the last two years. The state of Uttarakhand has emerged as a hotbed of this wildlife crime activity and in 2011 accounted for more than 30% of all tiger and leopard deaths recorded from across the country.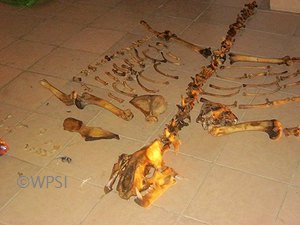 Both Tigers and Leopards are listed in Schedule I of Wildlife Protection Act. Any crime involving these species is punishable with imprisonment for a term between three and seven years and a fine not less than Rs. 10,000. The poaching of tigers and leopards occurs primarily for their body parts, skin and bones. The demand for their body parts exists mainly outside the country and is a major threat to these species.

Fortunately, Uttarakhand is also making a concerted effort to control wildlife crime and in the past two weeks there have been some important convictions under the Wild Life (Protection) Act.

On 4th January the Judicial Magistrate of Ramnagar handed down a conviction of three years rigorous imprisonment and a fine of Rs. 10,000 to notorious tiger poacher Dariya Bawaria. Dariya was arrested in 2008 when he was caught with a steel tiger trap by the Corbett Tiger Reserve staff.

Similarly, on 12th January the Judicial Magistrate of Purola in Uttarkashi, handed out a punishment of three years rigorous imprisonment and Rs. 1,500 fine each to three men who had been found in possession of 20 ghoral, barking deer and otter skins were in 2010. The seizure took place during a joint operation by the Upper Yamuna Division forest staff and WPSI on 4 June 2010. The three accused were also given six months imprisonment and Rs. 500 fine each under Section 26 of the Forest Act.