Walk for the Tigers !
---


A collaborative awareness programme in the Sundarbans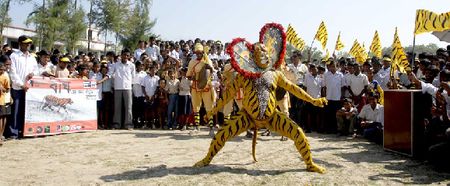 In a unique tiger conservation initiative, thousands of people took part in a five-day 'Bagher Jonyo Hatun' (walk for the tiger) from 9th to 13th November 2009, through villages on the fringes of the Sundarban Tiger Reserve. The campaign, which was coordinated by Joydip and Suchandra Kundu of Sanctuary Asia, was a collaborative effort of Sanctuary Asia, Bengal Tiger Line, Wildlife Conservation Trust, Wildlife Protection Society of India, WWF-India and ICNL, in collaboration with the Sundarbans Biosphere Reserve and the Sundarban Tiger Reserve authorities.

The objective of the march was to improve the relationship between the Forest Department and the local people towards the protection of wild tigers and the mangrove forests of the Sundarbans.

"The campaign focused on the importance of villagers and forest officials to work together during incidents of tigers entering into villages. This problem has surprisingly increased since cyclone Aila devastated the area in May 2009, and close cooperation between the field staff and the local people is essential to tackle these difficult situations", said Joydip Kundu of Sanctuary Asia. "The tiger is also a key tool for the survival of the mangrove forests and to mitigate climate change in the Sundarbans", he added.

The colourful 'parade' was flagged off on 9th November from Bijoynagar Adarsha Bidyamondir, a high school on Bali Island. More than 7,000 people took part in the march, including students, teachers, forest staff, NGOs, village leaders and local government officials. A group of traditional tiger dancers from Orissa accompanied the Walk for the Tigers and performed in villages along the way, to the great delight of both children and adults.

Towards the end of the march on 12th November, when participants were returning in boats from Shamshernagar, a large male tiger was sighted beside the Jhila River at two in the afternoon. In full view of the boats, the tiger continued to stride through the mangroves along the riverbank "swimming and jumping across a number of creeks" for over three hours, covering many kilometres.



The tigers of the Sundarbans were clearly giving their blessing to this unique conservation initiative.
top photo
Traditional tiger dancers performing during the march
© Joydip Suchandra Kundu/Sanctuary
lower photo
The large male tiger walking along the river bank
© Joydip Suchandra Kundu/Sanctuary