Voluntary plastic clean-up drive in Sunderbans
---

TIMES OF INDIA
By Subhro Niyogi, TNN | Dec 14, 2012, 02.53 PM IST

KOLKATA: A grassroots-level NGO in the Sunderbans joined hands with the state forest department and police to start a volunteer-based clean-up drive to rid the archipelago of plastic and thermocol waste. Past attempts to tackle the problem through awareness campaigns and fines have failed to yield results.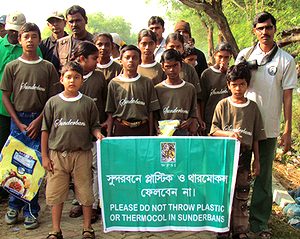 "Over the years, various methods have been tried out to stop tourists from bringing plastic and littering them in the Sunderbans. But they have proved ineffective due to the nature of tourism that is popular in the mangrove delta. Most of them are picnickers out to have fun with no concern for jungle or environment. Hence, trying to educate them is useless. Since it is the people of Sunderbans living off its resources who suffer, we have decided to form teams of volunteers to clean up the mess periodically," said Bali Nature Club founder secretary and principal field officer of Wildlife Protection Society of India Anil Mistry.

Of the 1.5 lakh visitors that Sunderbans draws annually, nearly 80% are the picnicking lot. Usually, groups of 30-40 people board a launch and head into the jungle. They have a hearty meal, play loud music and dance. Thermocol plates and glasses and polybags are discarded into the river. Even when boat operators collect the waste, they don't have the sense to dump it away from the shore. As a result, all the waste is washed back into the river during high tide.

"We've tried speaking to the tourists and imposing hefty fines on boats that litter. But monitoring is very difficult as there are too many entry and exit points. Hence, when Mistry came up with the proposal of getting volunteers to clean up the riverbanks once a fortnight, we embraced it," said Sunderban Tiger Reserve field director Subrat Mukherjee said. Sonakhali, Gathkhali, Pakhiralay, Jharkhali, Kaikhali, Kalitola and Dhamakhali are all used by tourists to access the Sunderbans.

On Monday, two dozen students participated in the clean-up drive from Gathkhali along the banks of Durgaduani, Gumbi and Bidya rivers, covering a 10-km stretch. "There were thousands of plastic bottles, snack packets, carry bags and liquor bottles littered in the mangrove trees along the shore line. It was tough work but I felt a sense of contributing to the preservation of the environment," said class XI student Ekadashi Mondal, one of the participants in the clean-up exercise. After collecting the waste, it was segregated into recyclable and non-recyclable material. The latter was then burnt in an incinerator.