Govt blind to bush meat trade
---
THE TIMES OF INDIA
Rashmi Drolia, TNN | Apr 12, 2014

RAIPUR: Illegal trade of bush meat, also known as wild meat has come to light in Chhattisgarh with shocking images of hundreds of slaughtered monkeys at Devvadvi region near Ambagarh Chowki in Rajnandgaon district located about 80km from state capital.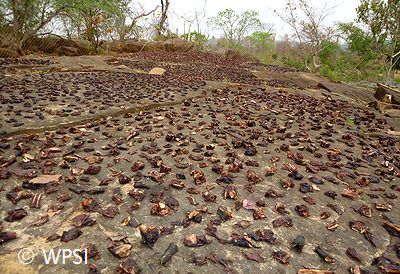 While forest department is yet to trace offenders, state wildlife activists accused them of gross negligence and corruption. They alleged that forest department was assisting poachers in cross-border exporting of wild meat, skin and brain.

Nearly 2km from forest check-post on the banks of Shivnath river, locals noticed groups of people who had taken refuge in forest of Devvadvi for last few days and killed at least 40 monkeys everyday.

Talking to TOI, Anish Goswami, a resident said, "The groups belonged to Bandesar region in Bastar and were seen for last few days. When I visited with team of other locals, there was a huge carpet-like view of monkeys' body pieces drying under sun. They had killed monkeys in thousands, cut them into pieces, dried and packed the meat after boiling and processing."

Nearby villagers also complained of meat being transported in a van on Wednesday after which, a complaint was made to forest officials, Goswami said adding that due to abundance of monkeys in this region, poachers have been visiting the place for the last five years in summers.

Narrating the conversation he had with the offenders, he said, "They store it for their own consumption and also sell it to locals of Pankhajur area. But as soon as locals informed forest officials, the group disappeared the next day. Fearing serious allegations, officials chased them away."