Simlipal despair: Tigers forced to starve
---
Debabrata Mohanty, Indian Express
Bhubaneswar, Mon Mar 12 2012

Simlipal Tiger Reserve, the fourth biggest tiger reserve in the country, may soon go the Sariska way with the National Tiger Conservation Authority (NTCA) pointing out an "alarmingly low prey base" due to hunting by tribals living on the fringes here.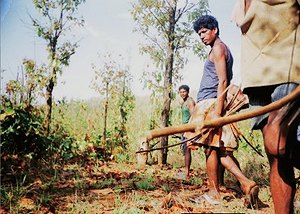 The reserve, spanning over 2,750 sq km area in Mayurbhanj district of Orissa, has been in news since 2009 with Maoists overrunning the park and subsequently, when it was found that 14 elephants were killed by poachers through poisoned arrows or gunshots between April and May 2010. A probe by the NTCA has found that field staff burnt and destroyed some carcasses to conceal evidence of poaching.

The deepening rot in the reserve seems to be touching new lows with Deputy Inspector General of NTCA

S P Yadav in his report to the state government confirming that Similipal has a dark future with the current level of prey base.

"The prey base appears to be alarmingly low in view of recurring problems of akhand shikar (mass hunting ritual conducted between mid-January and mid-April) by tribals and sustenance hunting of ungulates. In-situ build up of prey population at Jenabil and upper Barah Kamuda (core areas of the reserve) is strongly advised," Yadav said in his report while advising Kanha Tiger Reserve model where the in-situ mode of prey base regeneration was adopted.

Yadav, who toured the Similipal reserve alone in the first weeks of this month, said that he did not any tiger. "I did not see too many wild boars and deers, the prey of tigers. Without the prey base, how can one sustain the tigers?" he asked.