Turtle Mass Nesting Begins In Orissa
---
11th March, 2003
The much-awaited sea turtle mass nesting finally began in Orissa on the evening of 9th March at Rushikulya nesting beach near Kantiagada village. According to estimates by Operation Kachhapa field staff about 50,000 Olive Ridley sea turtles climbed ashore to lay their eggs on a one-kilometer stretch of beach at the Rushikulya river mouth.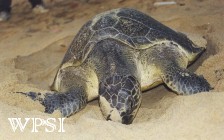 The mass nesting or arribada continued into the morning hours and thousands of female turtles were seen laying their eggs upto 8.00 a.m. During the last few days there had been sporadic nesting of 100 to 300 turtles a day on this beach.
"News of the turtle nesting has come as a great relief to conservationists", said Belinda Wright, Project Director of WPSI's Operation Kachhapa. "There was no mass nesting in Orissa during the previous turtle season of 2001-02 at any of the three important nesting sites of Nasi Islands in Gahirmatha, Devi River mouth and Rushikulya River mouth."
A few days ago, there was also significant nesting of turtles at Pentha beach in the Gahirmatha Marine Sanctuary when about 10,000 turtles nested there over a three-day period from 5 to 7 March. No arribada has as yet has taken place at the Nasi Islands in Gahirmatha, which is world famous for this rare natural phenomenon.
Operation Kachhapa field watchers have been deployed to assist the Forest Department in counting the nesting turtles as well as to protect the eggs from natural predators such as dogs, jackals, wild boar, hyenas, crows, eagles, and gulls. Last night observers noticed that a number of the turtles that climbed ashore to nest at Rushikuya, were individuals that had been tagged in earlier years nesting in Gahirmatha.
Due to uncontrolled illegal mechanized fishing - particularly by trawlers from Andhra Pradesh - in prohibited zones of Rushikulya River, more than 2,235 dead Olive Ridleys have been counted on the Chilika mouth to Bahuda river stretch during the current turtle season (from November 2002 to February 2003). The Rushikulya River mouth nesting-beach faces an additional threat from the proposed Crude Oil Terminal project of Bharat Petroleum Corporation Limited at Kantiagada village. If this project becomes a reality the Rushikuya turtle mass-nesting site will be lost forever.
Note:
A 17-minute film on CD "The Killing Fields: Orissa's Appalling Turtle Crisis" by Shekar Dattatri is available with the Wildlife Protection Society of India (WPSI). Please contact us at the address given below if you would like a copy.