Five tigers and a sloth bear killed
---
6th February, 2003
A tigress and her four cubs were electrocuted to death near Sipna River in the Harisal region of Melghat Tiger Reserve in the State of Maharashtra. Though the bodies were discovered on 3rd February it is believed that the tragic death had actually taken place four days earlier.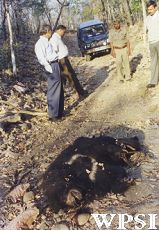 The rotting bodies of two of the cubs were found dead next to the tigress while the other two were found at distances of 80 and 100 feet. All five bodies have been sent for post mortem.
The escalating and widespread problem of poaching by electrocution using power lines running though the forest has worried conservationist throughout India for over a decade. Detailed records have been maintained by WPSI for all electrocution cases reported since 1990. The records show as many as 202 cases, most of which involved endangered species including tigers, leopards, elephants, rhinos and lions. Maharashtra reported the highest with 55 cases.
In another shocking incident in Maharashtra a sloth bear ensnared in a steel trap was found in Bor Wildlife Sanctuary, on 2nd February 2003. The WPSI team came to know of the occurrence and rushed to the site with forest officials. The animal was found dead with two of its claws and toes caught in a trap set in a middle of the road.
The event took place on the main forest road though Khapakhori in Bor Wildlife Sanctuary. According to the veterinarian the bear had died two days ago. It is inconceivable how an ensnared animal could have gone undetected for days on a main forest road. Evidence from the area around the trap shows how the bear painstakingly struggled for some time to free itself. The forearm of the bear was broken and the shoulder dislocated.
The metal trap was attached to a three-foot long chain. This was fixed to a pole that was buried three and a half feet into the ground. It took six men to open the trap and free the dead animal from it. Such traps are usually used to poach tigers and have been developed by Bahellias from the Katni and Jabalpur areas in Madhya Pradesh.