Tiger & Leopard Bones Seized
---
3rd June, 2003
Forest officials, assisted by WPSI, seized two tiger skeletons, a leopard skeleton and a leopard skin in a series of raids carried out in Maharashtra in central India on 30 May 2003.
The meticulously planned operation involved three separate raids in the remote villages of Alapalli and Sironcha divisions of Gadchiroli District.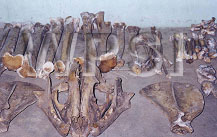 The enforcement team was lead by Assistant Conservator of Forest, Central Chanda Forest Division, Mr. V. M. Deshmukh, with assistance from Mr. Kamble, RFO Kothari, along with forest guards and foresters.
Three men were arrested during the raids and a search is underway to arrest others that are alleged to be involved in the crime. Six kg of tiger bone was seized in a village in Alapalli Division, and one leopard skin, six kg of leopard bones and 8 kg of tiger bone in two villages in Sironcha Division.